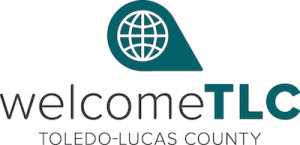 The Welcome Toledo Lucas County Initiative (TLC) works to build a more welcoming and inclusive community for immigrants and people of diverse cultures that supports a vibrant civic, economic, and social fabric for all.
WHO WE ARE
Welcome TLC is a collaboration of community partners housed in the Board of Lucas County Commissioners in partnership with Toledo LISC. Welcome TLC is governed by a Steering Committee and organized by Working Committees.
Welcome TLC believes that immigrants are an asset for expanding economic opportunity and revitalizing our region. A resurgence of Toledo's international population can be the foundation for a high-growth urban and regional strategy that will raise wages and provide jobs for everyone, including U.S.-born residents across the spectrum. Welcome TLC sets forth specific strategies to ensure that immigrant and international inclusion in the region's social and economic fabric will build a more prosperous future for everyone. In short, the long-term goal of Welcome TLC is to build a more inclusive, equitable, and prosperous region in which all programs and systems are designed to include immigrants, internationals, and other diverse communities.
WHAT WE DO
Celebrate Toledo's Cultural Diversity
Welcome TLC celebrates Toledo's cultural diversity events in partnership with immigrant, refugee, and diverse community groups and organizations. Events include the annual Toledo International Film Festival in partnership with the historic neighborhood Ohio Theatre and Event Center; Immigrant Heritage Month, Migration, and other collaborative storytelling events; Welcoming Picnics and Potlucks; and World Refugee Day.
Share Data and Local Success Stories
Share data about the positive economic and demographic impact of immigrants and refugees to the Toledo community including the 2015 report, New Americans in Toledo: A Snapshot of the Demographic and Economic Contributions of Immigrants.
Convene, Connect, and Innovate
Working Committees, comprised of key partners and specialists, help identify unmet service and economic development needs; design or adjust initiatives or programs to meet these needs; and implement these initiatives/programs within their own organizations or through the infrastructure of Welcome TLC. Working Committees include Community Outreach, Legal Services, Language Access, and Workforce and Economic Development.
History
A Core Committee of partners convened in 2013 to explore immigrant integration efforts in the area. Welcome TLC officially launched in November 2014 with resolutions of support from the Lucas County Commissioners and Toledo City Council. A strategic outline was developed with consultant Global Detroit in 2015 that created the committee-based organizational structure.
Toledo/Lucas County in the Press