Pre-conference session
Cost: $75
Immigrants are contributors to job creation and prosperity growth of a community, helping to fill critical workforce needs, launch businesses, revitalize neighborhoods, and bring diversity of thought, culture, and experience to a region. In this session, you will learn why economic development leaders, chambers of commerce, and elected officials across the Rust Belt are investing in immigrant economic development models, and what those models look like on the ground. Participants will then work through a series of questions designed to make the connection between immigrant inclusion and broader economic development strategies. Participants will walk away with concrete action steps for local partnership.
Space is limited to 30 participants.
Location: Marriott Syracuse Downtown, 100 E Onondaga Street Syracuse, NY 13202
Stickley Furniture Company Tour
Founded by the sons of German immigrants in 1900, Stickley has maintained its reputation as one of the finest quality and highly-regarded furniture manufacturers in the world. Since Alfred Audi purchased Stickley in 1974, he has continued to maintain the company's commitment to manufacture furniture with honor, integrity, and pride, relying on the workmanship and diligence of its workforce that is made up primarily of employees from the local refugee community. The factory tour will trace the company's history and the role that new Americans and an inclusive workforce has played in their growth and success.
Charter buses will transport participants to and from the Marriott Syracuse Downtown. Space is limited.
Early check-in option at Marriott Syracuse Downtown, outside of Canandaigua Rm. – Ground floor.  
Certified Welcoming Office Hours
Marriott Syracuse Downtown, sign up for a 15 minute session at the registration table (open 1-2 p.m.) outside of Canandaigua Rm. – Ground floor.  
Melissa Bertolo, Certified Welcoming Manager, Welcoming America
Welcoming America's new Certified Welcoming program offers the opportunity for communities to experience a comprehensive evaluation of current work and a chance to formally set themselves apart as leaders in the movement. Sit down with an expert to ask questions, strategize, and more.
Also available Tuesday, Oct. 24 from 10-10:30 a.m., 12-3 p.m., and 4:30-5 p.m. 
Neighborhood tours give attendees a chance to see how the work being done in Syracuse is manifesting itself across the city.
Buses will transport participants to the tours, departing at 1:30pm from the Marriott Syracuse Downtown to and from the tours, and dropping off back at the hotel at 4pm.  Charter buses will pick up and drop off outside of the Canandaigua Room on the ground level on Onondaga Street.
Building Community Amidst Constant Change: The Realities of Northside Micro-Neighborhoods
The Northside, the home to the majority of refugee resettlement in Syracuse, is in a state of constant change as new families from around the world move in to the neighborhood daily. This tour sets out to explore how we build community within micro-neighborhoods, and how we maintain stability in a state of constant change.
Food on the Northside: The Language that Needs No Translation
With over 40 different languages spoken on the Northside, sometimes the best way to understand each other is through something universal.  This tour piques our palate, exploring the markets & restaurants that make this neighborhood so vibrant.
Creating safe and inclusive spaces for Faith: The Journey of Converting a Historic Church into a Welcoming Mosque
Too often we forget that faith is a force that drives unity, community and compassion. The North Side Learning Center constantly transcends differences between and among newcomers and native born residents on Syracuse's Northside. This is accomplished by actively building community connections. facilitating active conversations, and providing cultural information and education. This commitment could not have been more true than successfully navigating the tenuous space of converting a historic church into a mosque, carefully respecting the building's past and creating a safe space for religious practice going forward. This tour sets out to discover the power of relationship, shared experiences, understanding and acceptance.
Early check-in option for attendees at Sky Armory, 351 S. Clinton Street.
Local, regional and WE Global Network organizations will present for 5-minutes each on an innovation they are working on. The fast-paced sessions are dynamic, giving the audience a snapshot of ideas that they could apply in their own communities. The session is co-emceed by Nicole Watts of HopePrint and Joe Cimperman of Global Cleveland, highlighting speakers in Syracuse and across the WE Global Network.
No RSVP required. Location: Sky Armory, 351 S. Clinton Street. Walking distance from the Marriott, click here for street view of entrance.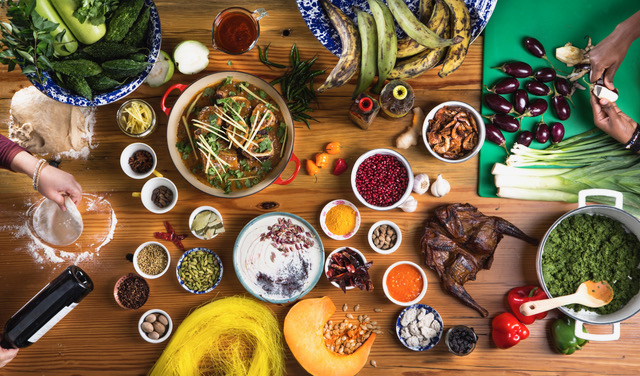 My Lucky Tummy is an pop-up international food court highlighting cuisines prepared by chefs from the foreign-born community living in Syracuse. Founder Adam Sudmann, a graduate of CenterState CEO's Up Start program as well as the Program Manager of Syracuse's With Love restaurant incubator, launched My Lucky Tummy in 2014 to celebrate the diversity of and bring attention to the cuisines of Syracuse's large refugee community.
The Welcome Reception will feature cuisines of Burma, Pakistan, Somalia, South Sudan, and Syria, all crafted by a few of the refugees that call Syracuse home.
No RSVP required. Location: Sky Armory, 351 S. Clinton Street. Walking distance from the Marriott. Parking available at the Clinton Street Garage for $10.
Tuesday, October 24, 2017
Convening
Marriott Syracuse Downtown, 100 E Onondaga Street Syracuse, NY 13202
Reception
Marriott Syracuse Downtown, 100 E Onondaga Street Syracuse, NY 13202
Places to meet and eat in Syracuse
Recommendations of restaurants and bars within walking distance of the Marriott.
Wednesday, October 25, 2017
WE Global Network Core Member Convening