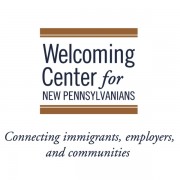 The Welcoming Center for New Pennsylvanians connects newly arrived individuals from around the world with the economic opportunities that they need to succeed in our region. Since opening our doors in 2003, we have assisted  more than 12,000 people from over 140 countries.
We believe that a steady influx of new customers, workers, and entrepreneurs can reinvigorate Pennsylvania's aging population, renew its neighborhoods, and re-energize our economy. By making Pennsylvania a magnet for immigrants, we will become a more vibrant, more creative, and more dynamic competitor in today's global economy.
Our mission is clear – to be a centralized resource and referral center for the region's growing immigrant community by promoting immigrant participation in the area's political, social, and economic life. To that end, we work closely with the many regional organizations that have a stake in immigration. These include government agencies, service providers, employers, business associations, trade unions and economic development groups.
Our data-driven approach draws on our own and others' research to inform local, state and national policy and practice. In response to national interest in our program model and tools, the Welcoming Center provides technical assistance and training on a consulting basis.