Chambers converge in St. Louis to highlight immigrant contributions
By: Betsy Cohen, St. Louis Mosaic Project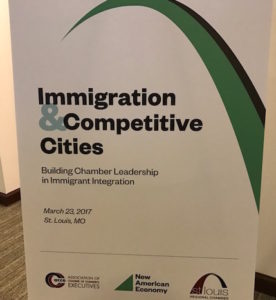 The New American Economy (NAE) and the Association of Chamber of Commerce Executives (ACCE) came to St. Louis on March 22-23, 2017 to learn from the St. Louis Regional Chamber, St. Louis Mosaic Project, the International Institute of St. Louis and Welcoming Economies Global Network (WE Global). Included were 16 visiting chambers from Boston to Kansas City. WE Global members St. Louis, Cincinnati and (soon-to-be member) Des Moines attended, as well as chambers from others including Philadelphia, Pittsburgh, Charlotte and Arkansas.
Joe Reagan, CEO of the St. Louis Regional Chamber, and Betsy Cohen, Executive Director of the St. Louis Mosaic Project, startled people in their introduction as they laid out the gap between a national agenda that is slowing immigration juxtaposed with the fact that all of our regions need population and economic growth through immigration.
This dichotomy prompted vigorous and engaged discussions on "Why We're Here – the Economic Imperative for Immigrant Integration" presented by NAE, followed by a panel of St. Louis leaders on how the region works together toward the goal of attracting the foreign born population. The facts were established that immigrants contribute to our collective population growth, job creation, and social vitality.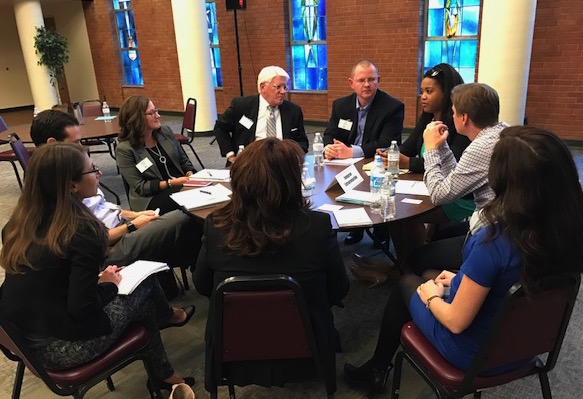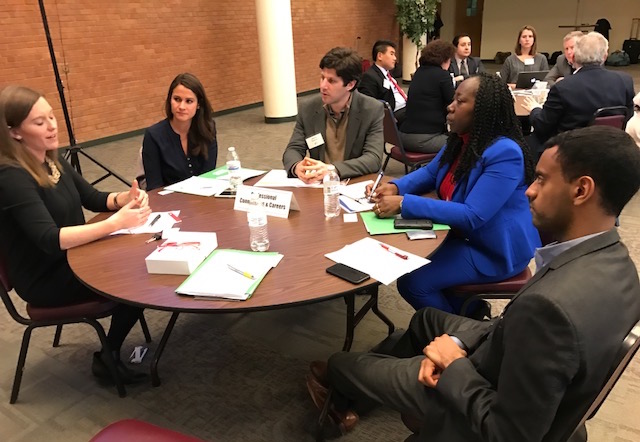 The thread of collaboration among St. Louis panelists from the Regional Chamber, the Hispanic Chamber, the International Institute, and Commerce Bank/William T. Kemper Foundation (the original funder of the research behind the St. Louis Mosaic Project) was crystal clear and a key reason the visitors came to St. Louis. The event shared ideas for creating regional immigration partnerships that have strong business, ethnic, educational, entrepreneurship, foreign direct investment and refugee components.
The second panel had representatives from other chambers and groups who are actively involved in this growth imperative, including Steve Tobocman of Global Detroit and the WE Global Network, Mary Stagaman of the Cincinnati USA Regional Chamber, and Mary Bontrager of the Greater Des Moines Partnership. We heard their support of innovative thinking to keep developing the immigrant talent their regions need.
A trip to the International Institute's St. Louis campus was an eye-opener, as it is in a converted Catholic girl's high school with several buildings on a campus. The building is filled with immigrants in classrooms for language learning, citizenship, job training, microloans, and programs for immigrant career professionals. In addition, it is the sole resettlement agency that  assisted over 1,000 refugees just last year! A lunch buffet of delicious Mediterranean food kicked off an afternoon of in-depth table discussions about supporting international students, boosting immigrant entrepreneurship, and assisting immigrant professionals.  
In summary, participants were outspoken that local businesses and chambers need to step up the pressure on their communities to appreciate and assist immigrant growth and success, even if the actions coming from Washington curb the numbers of international people who come to the U.S. in the next few years. We cannot afford to sit back – our economies rely on the range of talents that immigrants bring!