How Immigrants Are Helping To Rebuild Rust Belt Economies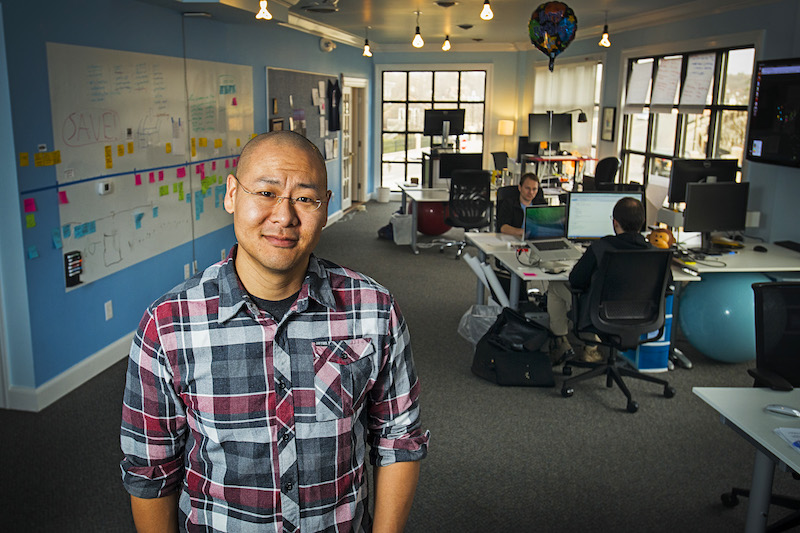 Photo credit: Doug Coombe
Welcoming immigrants and providing them an opportunity to build a life and contribute to the fabric of our society is one of America's longest and proudest national traditions. But that central tenet of our national character is now being challenged by Donald Trump's anti-immigration policies. As this national debate rages on, there's a quieter current that has been rolling through the Rust Belt for years —local elected officials (even some Republicans) and economic development agencies that are embracing immigration as a driver of economic growth and community revitalization.
That might seem surprising giving the Rust Belt's role in handing the recent election to Trump, but new data from the New American Economy released today reinforces that immigrants don't take jobs, they create them, and that they greatly enhance the economic well-being of U.S.-born residents in their local economies and neighborhoods.
Immigrants are launching businesses and employing Americans; they are buying homes and helping to build housing wealth; and they are filling unmet talent needs in high-tech, manufacturing, agriculture, and service industries, allowing companies to compete, create jobs, and raise incomes for their workers.
Immigrants also are the foundation for population growth for most Rust Belt cities and states.
Philadelphia, a city often identified with Rust Belt challenges from lost manufacturing and which resides in a historically "blue wall" state that flipped for Trump in 2016, is home to over 600,000 immigrants who collectively represent $13.5 billion in spending power – money that supports restaurants, retail stores, coffee shops, and small businesses – and that circulates throughout Pennsylvania's economy.  Immigrants there have also significantly contributed to the reversal of the city's 60-year population decline, and since 2000 have been responsible for 96 percent of small business growth and 75 percent of workforce growth.
This growth didn't come about by accident. Mayor Jim Kenney was an early advocate of welcoming immigrants, developing a city revitalization plan focused on immigrants during his time on the city council. In 2003, Mayor Kenney was part of the founding board of directors for the Welcoming Center for New Pennsylvanians, which has connected some 12,000 immigrants from over 140 countries to economic opportunities with workforce development, job training, entrepreneurship programs, and legal and social support. These investments have paid dividends, anchoring Philadelphia's population rebound.
Philadelphia's story is not unique.  A network of more than 20 local economic development initiatives that embrace immigrants as powerful contributors formed the Welcoming Economies Global (WE Global) Network in 2013, working across 10 Rust Belt states in communities from Syracuse to St. Louis.
Many WE Global member cities are seeing – and with the new data from New American Economy able to prove – the benefits of immigrant inclusion efforts. The cities are experiencing population growth, job creation, rising incomes, and revitalization in often-ignored communities.
The St. Louis Mosaic Project, for example, set a goal to transform the region into the fastest growing metropolitan area for immigration by 2020. One key strategy: attracting and retaining international students who are an incredibly valuable economic asset to local employers struggling to hire talent in critical hard-to-fill areas.
Far from stealing American jobs, international students are helping U.S. employers fill open STEM positions, enabling companies to compete, grow, and hire more people at every level. Prior research by the New American Economy and American Enterprise Institute estimates that every international student who earns a graduate STEM degree in the United States who is then hired by a U.S. employer creates 2.62 additional jobs.
Rust Belt cities also are starting to understand the potential for immigrants to build housing wealth in distressed neighborhoods. 2016 research from the WE Global Network and the Fiscal Policy Institute shows that in Detroit, which has a substantial stock of distressed housing, the number of immigrants is growing even as the U.S.-born population continues to decline. WE Global member Global Detroit has launched one of the first initiatives to include immigrants in its local housing revitalization strategy, and last year helped a dozen immigrants buy vacant properties to rehab into new homes.
WE Global Network members have been pioneers in designing innovative local and regional policies to welcome New Americans, integrate them into local economic development strategies and programs, and build more vibrant communities.
Their experience and activities, in addition to the widespread local support they receive, suggest that the real story of immigration—an American story of economic contribution and community revitalization—is alive and well in the cities across the Rust Belt.
Let's hope that our federal government won't turn a deaf ear to the welcoming chorus emerging from America's heartland.
Steve Tobocman is the Executive Director of Global Detroit and Co-Chair of the Welcoming Economies Global Network. He is a former state representative and majority floor leader in the Michigan House of Representatives.