New Research on the Importance of Immigrants in the Midwest
Our friends at the Chicago Council on Global Affairs have provided two significant pieces of research on immigration and the Midwest that should be of keen interest to those working to advance the economics of immigration.
Heartland Hospitality: Serving the Needs of the Midwest Economy through Immigration
First is an in-depth analysis of the importance of immigrant labor to the fast-growing leisure and hospitality industry in the Midwest by regular WE Global conference attendee Sara McElmurry. With over 3 million workers across 12 midwestern states, the hotel and leisure industry is expected to require 1.2 million more workers across the nation from 2012-2022. While immigrants account for 13% of the U.S. population, they comprise 31% of workers in the hotel and lodging industry and 22% in the food service industry.
Sara's research uncovers that restaurant and hotel jobs were the second most difficult role to fill in 2014. She analyzes the nation's immigration system to uncover that the current structure neither facilitates helping business very well to fill those jobs, nor does it do well to protect against abusive and unfair labor practices. Sara's report asks and answers tough questions about the impact (negligible) of immigrants on wages in these low-paying industries, the nature and scope of undocumented labor, and nature of immigrant entrepreneurship. The report has lots of data on Midwest states, as well as several stories of Midwest immigrants, businesses, and even a comment or two about WE Global member work.
Looking back to look forward: Lessons from the Immigration Histories of Midwestern Cities
Second, earlier this month, Rob Paral, a nonresident Fellow at CCGA who also has authored research for the American Immigration Council, dropped a detailed analysis of the history of Midwest cities and immigration. Most powerfully, the study shows that while the cities of the Midwest were uniquely shaped by robust immigration during America's industrial boom of the early 20th century, their later decline also is marked by sharp reductions in the number of foreign-born. Most major Midwest cities counted 25% or more of their 1910 population as foreign-born, but less than 10% by 1970 and the depopulation, disinvestment, destabilization, abandonment, and blight followed.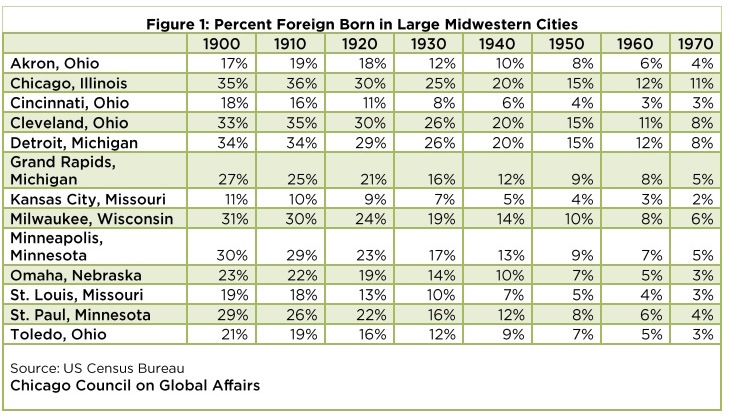 Today, in all but Cleveland and Detroit, immigrants are more likely to live in the central city in major Midwest cities than their U.S.-born counterparts.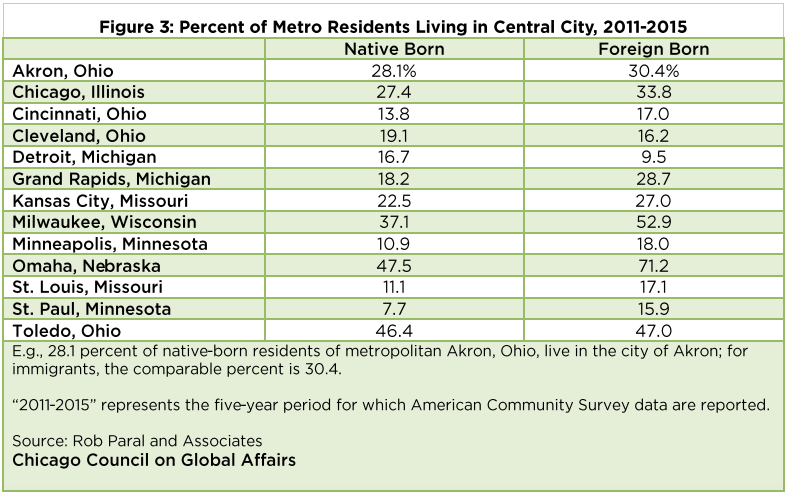 Immigrants are again playing a unique role in revitalizing urban neighborhoods in Midwest cities. All of the cities Paral tracks, with the exception of Omaha, have continued to lose U.S.-born population over the last 45 years. But most of the cities have gained foreign-born population (except Akron, Cleveland, Detroit, and Toledo). As demonstrated with different cities and time periods in the WE Global October 2016 report on immigrant housing in Rust Belt cities, immigrants often represent the only source of population growth for the vast majority of Rust Belt cities.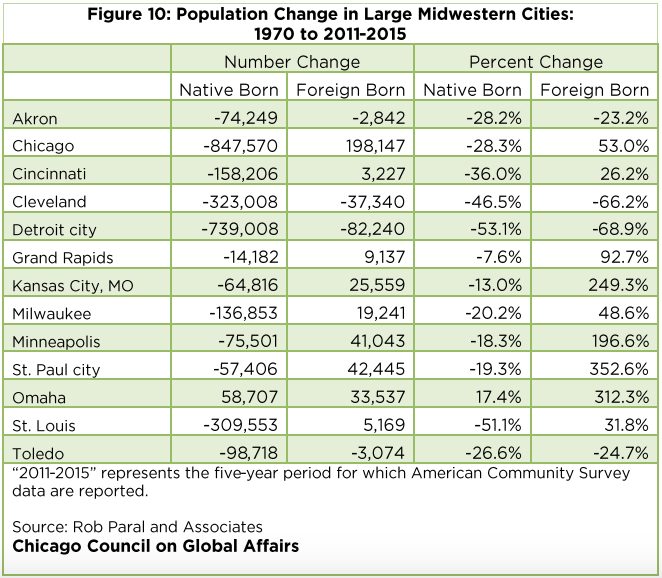 We are glad to have partners like the Chicago Council on Global Affairs and to promote good research on the facts about immigration in the Midwest. If you want to hear more about how immigrants are impacting our economy and how over 20 local communities across the Midwest and Rust Belt are building welcoming economies, come to WE Global's 5th annual convening in Syracuse on October 23-24!