April 12 Joint Day of Action on Immigrant Impact: H-1B Crisis Shows Demand for Immigrant Professionals
Today, all across the Rust Belt, WE Global Network members are raising awareness about how the H-1B crisis negatively impacts economies in America's heartland. Immigrant economic development initiatives and business and economic leaders are banding together to highlight the economic costs and job losses that the federal immigration system imposes by restricting local employers' ability to hire skilled immigrant labor. This is the 14th year in a row that the supply of H-1B visas has been exhausted – and last week the cap was exceeded within five business days.
Demand for immigrant professionals
The H-1B cap limits employers' ability to grow their business and compete on a global scale. In today's marketplace, the race for high-skilled workers is more competitive than ever, and the current limits on H-1B positions cost our region job growth. International talent often possesses the very skills and training that U.S. employers are struggling to fill locally.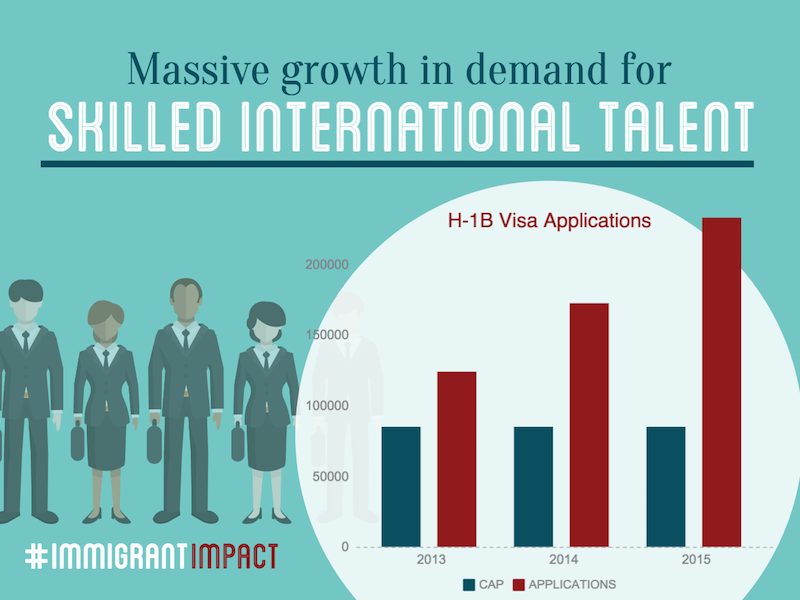 What is an H-1B Visa?
The H-1B visa is a temporary employment visa for highly educated foreign professionals in "specialty occupations" that require at least a bachelor's degree or the equivalent.
How does the application process work?
U.S. companies apply for an H-1B visa for a foreign-born professional to be employed with their company, and they pay considerable funds to prepare their application just for the one in three chance of being chosen in the lottery. The H‐1B visa is currently capped at 85,000 per year, and USCIS draws the winners through a random lottery. Lawyer fees put towards acquiring an H-1B worker are not refunded if the application is not accepted. H-1B visa holders may be sponsored for permanent residency by their employers.
Today over a million international students study at U.S. colleges and universities, comprising nearly 5% of all U.S. higher education students.
Between 40 and 70 percent of all the graduate students at U.S. colleges and universities in STEM-related (science, technology, engineering and math) fields are international students – this is a talent pool that is too valuable to ignore.
In addition to international students, there are over 7 million work-authorized immigrants who possess a college degree (half of whom possess graduate degrees) and nearly 2 million could be working in highly-demanded positions.
Studies find that H-1B workers raise wages by encouraging innovation, boosting the local economy, and increasing productivity.
H-1B visas awarded to U.S. companies translate to new jobs for U.S.-born workers: For example, each foreign-born graduate for a U.S. university with an advanced degree who stays in the U.S. to work in a STEM occupation creates an average of 2.62 additional jobs for U.S. workers.
Nearly two-thirds of requests for H-1B workers are for STEM occupations. The demand-supply gap for STEM talent began in 2013 and is going to widen rapidly over the next 6 years to an estimated unmet demand for 1.3 million STEM professionals.
WE Global Network members are blazing new ground and making significant progress the last few years in building innovative local infrastructure to make the region a leader in global talent attraction, retention, and integration that can help the region's employers to address the crisis for skilled workers today. Two areas of progress are in international student retention and highly-skilled immigrant integration.
WE Global members have launched the nation's first international student retention programs outside of universities, connecting employers with unmet talent needs with some of the world's most talented and ambitious workers.
High-skilled immigrant integration efforts focus on the work-authorized immigrants and refugees with college degrees who are under-employed or unemployed (at 1.5 times the rate of similarly educated native born workers).
Help spread the word about the competitive advantage that immigrant talent offers your region. Visit WE Global Network and its members on Facebook and Twitter and share #H1B content using the hashtag #ImmigrantImpact.
Sample tweets: