BDC Internships: Breaking Down the Barriers to Refugee Employment
This success story originally appeared on Hire Immigrants, and is one in a series titled World Refugee Day: Employer Champions Investing in Refugee Talent. Read the other stories here.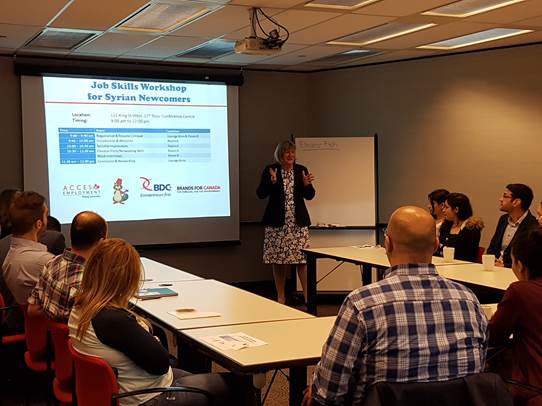 BDC Job Skills Workshop for Syrian Newcomers
What can an employer do to create opportunities for former refugees? The Business Development Bank of Canada (BDC) knows how important diversity and inclusion is to expand and reach entrepreneurs in new markets and communities. BDC is finding out a diversity strategic imperative includes the talent of former refugees in Canada.
Ellen Austin, HR Business Partner says BDC understands the benefits of hiring newcomers: "If you're attracting the same types of candidates, you're not moving forward. Newcomers help us to better serve newcomer entrepreneurs. They bring value to our business, with different perspectives and connections with new clients and markets. Having a diversity of perspective helps us to grow."
Being inclusive has helped BDC learn more about entrepreneurs' target markets, including connecting with entrepreneurs they may not be reaching. Ellen gives the example of an interview with a newcomer originally from Turkey. He told his interviewer there was a huge, untapped Turkish entrepreneur community in North York (Toronto). He was connected, understood the community and could bridge BDC products, and mandate, into that community.
When he was hired, BDC was able to reach and serve this new client market. It was good for BDC. It was good for the entrepreneurs. Without him, BDC would not have been able to tap into this new market, and may not have even known about the opportunity. It was also important for BDC to recognize his talent and potential beyond one target market. He has since grown into a very successful Account Manager at BDC.
Ellen says it takes time and commitment for employers to see newcomer talent as a strategic opportunity. They must commit to it. Once they do, they'll only benefit. The opportunity and obligation for employers is critical, now more than ever. As refugee talent arrives, employers have an important role to play in recognizing them as talent first, and refugee second.
Both recruiters and hiring managers have a responsibility to expand their knowledge and understand international talent. When an employer sees a resume with international experience, it is easy to say, 'I don't know, it's too much risk.' Ellen says because of this blind spot, the Bank wondered if they were missing out on potential talent. Now, staff are educated to understand international resumes, international experience and unconscious bias. Having a diverse employee base with international experience already at BDC has also helped to evaluate specific credentials, institutions and companies.
BDC's openness to learning means that it has become more open to international education, experience, and to a greater talent pool. It means that the perception of risk has shifted from avoiding international experience, to ensuring BDC does not miss out on internationally trained talent.
Even in this context however, it was hard to know what an employer could do to support arriving Syrian refugees. When presented with the opportunity, BDC joined the Syrian Refugees Jobs Agenda Roundtable, convened by Hire Immigrants. The Roundtable provides employers with an opportunity to come together with like minded companies, leveraging and learning from each others' experiences. Ellen finds the Roundtable refreshingly collaborative. Everyone comes together to learn and help each other, all guided by the goal of creating employment opportunities for refugee talent. It is about doing the right thing.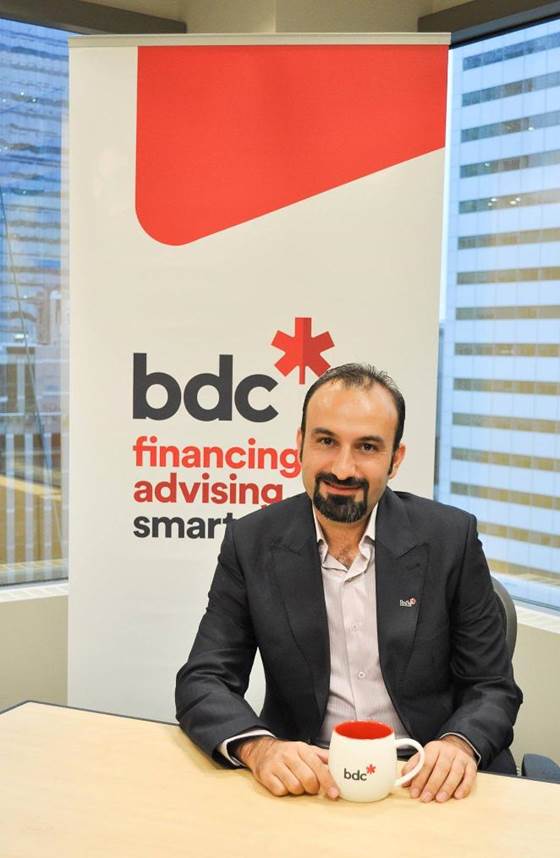 Mustafa Fadel, Analyst, BDC Advisory Services
As BDC and other Roundtable employers are finding, doing the right thing also means gaining a strategic employment advantage. Take recent Analyst hire, Mustafa Fadel. An IT Engineer with 10 years' experience, Fadel came to Canada as a Government Assisted Refugee (GAR) in January 2016. Originally from Syria, Fadel spent three years in Jordan. With his IT background, he was able to continue to work remotely with companies in Dubai, keeping his skill set fresh.
In Canada, his initial job seeking experience was challenging. Like many newcomers, he faced a typical barrier: "once you start looking for work, you hear the Canadian experience excuse. But, no one is giving you the experience, so how do you get it? I have high level of experience. IT is the same anywhere."
To address "Canadian experience" and other challenges for refugees, BDC created a small interview and presentation skills workshop for new refugees. It gives them the experience of being in a business environment. BDC includes video interviews, which are increasingly common in hiring practices. After an intensive, practical day of information and support, participants can apply for paid internships at BDC.
Making it a company imperative, the session is useful not only for the refugees, but for BDC. It is part of BDC's leadership development program, building the company's internal leaders.
The internship program started strategically. Ellen created the pilot with the support of a BDC Vice President. By creating a program with a small cohort, Ellen has been able to make the business case for not only hiring interns, but looking at refugee talent as a long-term, full time talent pool. Starting small, incrementally, gave BDC an opportunity to build the internal competence and confidence they needed to work with refugees. Success was immediate. The result was interest from departments across BDC to host refugee talent.
In Fadel, and three other interns, BDC found not only skills and competence, but also new experience that enhances company diversity. The value Fadel brings BDC is over and above his technical skills. His view of the power of diversity echoes what BDC and other employers have found: "I had different experience in the field, in terms of how I've worked with clients. By adding my experience to my team and their sharing with me we have improved our processes. Diversity makes our team stronger."
Fadel originally gave himself a year to find work in his field. Like many highly-skilled refugees, he took responsibility for his success. He connected with local organizations that help refugees, such as ACCES Employment and Refugee Career Jumpstart Project (RCJP), both members of the Roundtable. With their support, he attended employment workshops, information sessions and, eventually, the connection that would lead him to BDC.
Given the opportunity to prove himself in a welcoming environment has also made his settlement in Canada a reality. He can think about his future and provide more support to the family who came with him to Canada: his parents and two sisters.
Ellen says that employers can provide opportunities, but also need to be thoughtful and offer more support and accommodation when it comes to hiring former refugees. Benefits are offered to BDC interns, such as access to the corporate Employee Assistance Program (EAP), to complement community settlement services. BDC also works with ACCES Employment's entrepreneurship program. ACCES found many entrepreneurs in the Syrian population and created a program for them, offered in Arabic. BDC's four new interns were front and centre, interested and volunteering to help deliver the program. Fadel says volunteering is his way to give back to new refugees.
Ellen says that being introduced to more community organizations and other employers at the Roundtable has been important. She's particularly excited about the fact that most employers at the table have national reach. While the Roundtable started in Toronto, it's a model that can be replicated across Canada, and beyond.
It is already happening at BDC. BDC has done a second session in Ottawa with 15 former refugees. Three are currently being interviewed for internships. Another skills workshop and potential intern cohort will start soon in Toronto.
BDC has gained knowledge and community connections, and also access to a previously untapped talent pool. The Bank provides an example of how employers can create opportunities for refugees. In so doing, they create opportunities for their companies as well.
Tips for making it work for you:
Learn.

Employers need to constantly evolve in order to be inclusive.  BDC employees have gone through a process to address unconscious bias. Looking beyond what you might not understand and bias means looking at skills, competencies and potential, not just where someone is from, or their name. The result is access to a larger potential pool of talent.

Be curious and creative

. Many former refugees may not apply through normal channels. Help to remove obstacles and barriers to see the talent.

Be active

. Recognize that you may need to tweak your onboarding plan for former refugees. You need to be thoughtful and open to additional supports in transitioning, including extending an internship or probationary period.

Connect with the community

. Work with and support community organizations who can act as a talent pipeline for your company. That support doesn't have to be financial. It can include volunteer employees who can support job fairs and mentoring. sessions and more. That includes your new hires, former refugees.