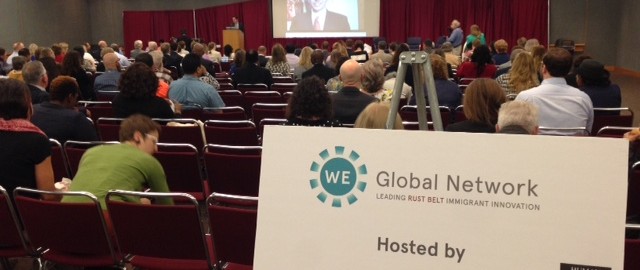 Rust Belt Ingenuity Fuels Inclusion and Prosperity: Reflections on the 3rd Annual WE Global Convening 
By Rachel Peric, Deputy Director, Welcoming America
The Rust Belt region of the U.S. is known for innovations that shaped and powered the 20th century. Today, the pragmatism and inventiveness that define the region are pioneering a new and creative force for prosperity in the 21st century – welcoming communities. Across the Midwest, a set of pioneering regional economic development initiatives are working to tap into the economic development opportunities created by immigrants.
These innovative efforts were showcased July 9th in Dayton, Ohio, where more than 300 individuals leading efforts throughout the region gathered at the Welcoming Economies (WE) Global Network Convening, the third annual event of its kind. Welcoming America and Global Detroit partnered with Welcome Dayton, Dayton Human Relations Council, and City of Dayton to host this year's Convening, a gathering of immigrant economic development professionals working in cities and regions across the Midwest. Welcoming America also serves as the corporate home for the WE Global Network, in partnership with Global Detroit.
Dayton was a fitting location for the event. The city's efforts to create a more welcoming community through the Welcome Dayton initiative have been recognized nationally and a new report by the Partnership for a New American Economy shows how those efforts have been paying off for the city. Welcome to Dayton: How Immigrants are Helping to Grow Dayton's Economy and Reverse Population Decline highlights how Dayton has reaps the benefits of its immigrant economic development efforts. "Immigrants inject new life into our neighborhoods, they patronize and create local businesses, and they contribute to our state and local communities tax bases," said Dayton Mayor Nan Whaley.
Felicia Escobar, Special Assistant to the President for Immigration Policy, discussed how Dayton's efforts are inspiring other localities and are the subject of new efforts by the federal government to support the efforts of communities to engage and integrate new Americans.
Other highlights from the event included:
Researcher David Kallick of the Fiscal Policy Institute discussed the contributions of immigrants on Main Street, where 28% of businesses are owned by the foreign-born. No city has successfully grown without attracting and retaining immigrants, Kallick shared.
Paul Costigan of the International Institute of St. Louis, Danielle Drake of US Together Cleveland, and Herman Nyamunga of the Welcoming Center for New Pennsylvanians joined Susan Downs Karkos of Welcoming America for a panel highlighting innovative partnerships for advancing the success and economic contributions of refugee communities.
A number of sessions tackled the spectrum of challenges and opportunities in higher education – from engaging more colleges and universities to retaining international students after graduation.
Members of the IMPRINT coalition shared strategies on working with highly skilled immigrant populations, addressing issues like re-credentialing and workforce system collaboration.
Welcoming America also released its new Guide to Immigrant Economic Development, written by Steve Tobocman of Global Detroit and with numerous contributing profiles that feature cutting-edge efforts throughout the Midwest and beyond.
Henry Ford once said, "don't find fault, find a remedy." As the nation confronts the sticky politics of immigration and the region wrestles with economic hardship, we at Welcoming America take inspiration from the leaders of this region who have injected a Midwestern pragmatism into both conversations, and have focused on positive solutions that are both yielding results and inspiring a growing field of practice.
In an era when innovation is prized, we can once again look to the Midwest to fuel America – this time, fueling our ability to remain a globally competitive and inclusive nation that derives strength from our growing diversity.
Rachel Peric serves as Deputy Director of Welcoming America, where she guides programs and organizational strategy. In partnership with Global Detroit, Welcoming America is the corporate home for the WE Global Network.   The Welcoming Economies (WE) Global Network is a regional Network of immigrant economic development organizations working in cities and regions across the Midwest. Welcoming America helps communities across the country achieve prosperity by becoming more welcoming toward immigrants and all residents. 
https://www.weglobalnetwork.org/wp-content/uploads/2015/07/IMG_5626.jpg
480
640
gglnadmin
http://www.weglobalnetwork.org/wp-content/uploads/2016/08/WEGN_standard-new-colors-01-300x120.png
gglnadmin
2015-07-21 18:10:15
2016-10-12 16:43:32
Dusting off the Rust