By Sara McElmurry, The Chicago Council on Global Affairs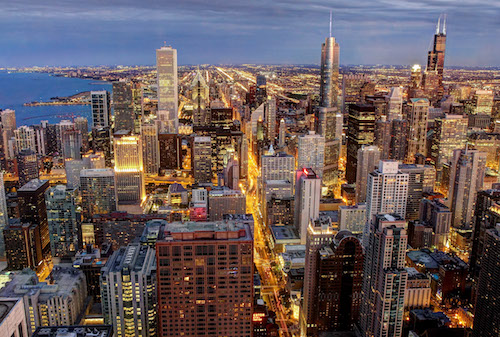 Silicon Valley's San Jose is practically synonymous with entrepreneurship. But it turns out that the best US city in which to start a business is better known for its buffalo and badlands than for its start-ups.
Sioux Falls, South Dakota—projected to be "America's Next Boom Town" in a forward-thinking piece in The Atlantic back in 2013—just topped a new list of "Best Large Cities to Start a Business."
If Sioux Falls was a surprising frontrunner, the Midwest's dominance of the top spots on the list may also turn a few heads. Grand Rapids, Michigan, holds second place. Lincoln, Nebraska, and St. Louis, Missouri, were Number 4 and 5 respectively. The Midwest was also well-represented in another study on the best small cities to start a business, with Holland, Michigan, in first place.
After decades of economic decline—with the shedding of manufacturing jobs, the Midwest has grown at a rate of less than half the national average over the past 50 years—the region is now experiencing something of a business renaissance. Much of this revival can be linked back to immigration—and its continuity will depend on immigration reform.
More than 1 million immigrants moved to the Midwest between 2000 and 2010, revitalizing stagnating cities across the region. St. Louis owes nearly 40 percent of its population growth to immigration during that timeframe; the numbers are nearly 20 percent in Grand Rapids and 19 percent in Lincoln.
But beyond their sheer numbers, immigrants are building local economies in other important ways. These new Midwesterners are young. The largest cohort is between the ages of 25 and34, prime working age, replacing greying native-born workers who are retiring en masse from local labor forces.
The Midwest's immigrants are also decidedly entrepreneurial.
The notion of the immigrant entrepreneur is not new. From Colgate and Kraft to Google and Yahoo, many of America's most iconic companies have immigrant founders. More than 40 percent of the 2010 list of Fortune 500 companies were started by an immigrant or the child of an immigrant. And on the other end of the spectrum, immigrant-owned small businesses are punching above their weight in revitalizing Main Streetsacross the country. In fact, a recent study showed that immigrants are twice as likely as their native-born peers to start a business.
What's decidedly less well-known is the remarkable concentration of this entrepreneurialism in the Midwest: Immigrants were behind nearly half of the 206 Fortune 500 companies founded in Midwestern and "Rust Belt" states.  And immigrant entrepreneurs are helping to grow the nascent "Silicon Prairie" network of Midwest tech startups that spans numerous states, including South Dakota.
With its foreign-born representing just seven percent of its population of 171,000, Sioux Falls is not an immigrant gateway by any stretch of the imagination. But the small immigrant business community is making big economic contributions.
As South Dakota's largest city, Sioux Falls is home to many of the 606 new immigrant business owners registered in the state as of 2010, with a total net income of $13.1 million. Foreign-born professionals—H-1B business visa holders—are also a boon to local economies in purchasing power and tax revenue, earning an average wage of $60,888, significantly higher than the state's per-capita income of $25,570.
Immigrants also have the potential to drive future innovation in South Dakota. Foreign-born students were fully 40 percent of STEM graduates from the state's research universities. They were 24 percent of science and engineering graduate students.
Sioux Falls has managed to embrace the contributions of its foreign-born even within the confines of a woefully outdated immigration system. (Today's immigration framework was last overhauled in 1965.) But city leaders could reap the benefits from even more contributions if federal immigration policies were updated:
There is currently no visa that allows an immigrant entrepreneur to come to the United States to start a businesses. As a result, they are increasingly taking their talents elsewhere to launch startups—or opting to simply build them at home.
Foreign-born students, including those in sought-after STEM programs, have no visa channel that allows them to permanently stay in the United States to work after they complete their degrees. The price tag on this missed opportunity for the 12-state Midwest is $3.2 billion in income and $123 million in state income tax.
Business visas are capped at artificially low levels and are awarded via lottery instead of based on economic demand. Analysis shows that an expansion of the number visas awarded to highly-skilled workers would create an estimated 700 new jobs in South Dakota by 2020, adding $311 million to the gross state product by 2045 and increasing South Dakotans' personal income by more than $280 million.
Entrepreneurs report that they are drawn to the Midwest because it offers a pro-business environment that is increasingly hard to find in more saturated in coastal cities. The region offers supportive peer networks, relatively low costs, and—most importantly—a willing and able local workforce. Immigration is vital to the latter, especially in key Midwestern industries like healthcare and agriculture.
With these assets, communities like Sioux Falls across the Midwest can thank immigrants for contributing to their new status as "boom" towns and first-place rankings on pro-business indexes. But permanent legislative solutions are needed to cement their status and address the array of immigration challenges facing the business community, including foreign-born entrepreneurs. Leaders of these business-friendly cities should consider joining the growing choir of voices calling for updates to our outdated immigration system, lest their boom fade to a bust.
This post originally appeared at The Chicago Council on Global Affairs.