By: Mary Stagaman, Senior Inclusion Advisor, Cincinnati USA Regional Chamber
The Welcoming Economies Global Network (WE Global) provides member organizations opportunities to learn from each other as part of its mission to strengthen the work, maximize the impact, and sustain the efforts of individual local initiatives that welcome, retain, and empower immigrant communities as valued contributors to local economies. During WE Global-funded city-to-city visits, a delegation led by one core member organization visits another core member organization to exchange ideas, learn from each other's successes, and inspire new approaches and commitment to immigrant-focused economic development. Visits typically include meetings with local stakeholders including government, chambers of commerce, economic development agencies, and social service providers.
"Before, I only know how to cook. NDC taught me to run a business," said Hassan Ziadi, chef and owner of Moroccan Flavors at the Midtown Global Market in Minneapolis. Ziadi was speaking of the Neighborhood Development Center, a powerful engine of entrepreneurship that has been building successful small businesses for more than two decades.
The conversation—with tastes of North African food—was part of a Cincinnati USA Regional Chamber led trip to the Twin Cities to learn more about how the NDC has been supporting the fulfillment of immigrants' dreams through training, incubation and access to capital. While Midtown Global Market is the largest project ever undertaken by NDC, more evidence of its impact is all over the St. Paul neighborhood of Frogtown.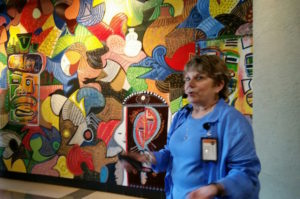 Midtown Global Market's Becky George explains how NDC transformed an old Sears store into an internationally flavored destination, reducing crime in Midtown Minneapolis 25 percent in first year of operation.
Our visit started with a briefing from NDC founder and CEO Mihailo "Mike" Temali and dinner at Los Ocampo restaurant. Los Ocampo is also a product of the NDC and is now supporting a second generation of the Ocampo family in five restaurants and catering operations around Minneapolis-St. Paul. Anchoring the table for our dinner was Joyce Williams, a neighborhood activist who provided a rich history of the highs and lows of Frogtown—and a sense of the potential being realized there now.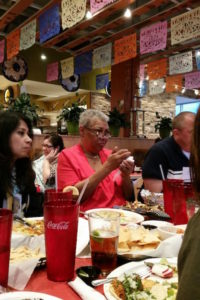 Frogtown (St. Paul) leader Joyce Williams explains the history of the neighborhood, while dining with the Cincinnati delegation at one of the Neighborhood Development Center's entrepreneurial success stories: Los Ocampo restaurant.
Potential was a recurring theme in our visit. As we walked through Frogtown, it was on display in the refreshed storefronts of long-standing favorites like The Best Steakhouse; in the sites cleared and ready for new mixed-use development; and in the light-rail line along University Avenue that brings passengers from all over St. Paul. It's also evident in the senior housing above Los Ocampo, which stands on a corner once anchored by "adult" businesses that were magnets for crime.
Those businesses have been replaced by new ones led by adults who are "Role models for youth and young adults," according to Isabel Chanslor, NDC Chief Program Officer. Those same businesses are investing in the community, contributing to a decline in crime and a rise in neighborhood pride. This is no accident.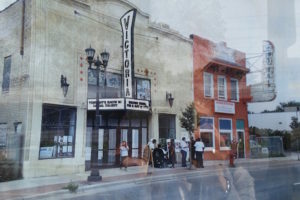 This historic theatre building, like many in the Frogtown neighborhood, should see new life with the coming of light rail along the central corridor.
Dani Watkins, program director for Cincinnati's CityLink Center, said it best: "NDC has shown that they listen to the community (partnering with neighborhood associations); they are willing to invest in neighborhoods (by "building from within"); and they are willing to take risks to help move their mission forward" through thoughtful, progressive lending. "All of this work is having a significant, long-term impact on the Twin Cities."