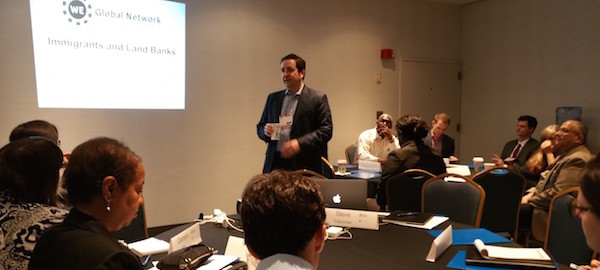 By Steve Tobocman
On Wednesday, May 20th the Welcoming Economies (WE) Global Network convened some 20 leaders representing 9 of the nation's major land banks (or their equivalents), as well as representatives from the Partnership for a New American Economy and the Legacy Cities Partnership of the American Assembly for the first-ever national discussion of immigrants and land banks. The intimate 90-minute gathering enabled land banks to share best practices, identify opportunities, discuss challenges, and develop some additional work that can be done to assist Rust Belt cities in connecting their vacant property opportunities to immigrants and refugees looking for low-cost housing options.
Steve Tobocman, WE Global Network Co-Chair, who organized the gathering with the support of the Center for Community Progress at its National Reclaiming Vacant Property Conference—a gathering of some 1,200 vacant property leaders from across the country—started the discussion by providing a brief overview of the WE Global Network and the exciting movement that is sweeping the Rust Belt to focus on immigrants as a source of urban revitalization and economic growth. Land bank leaders from Syracuse, Cincinnati, Dayton, Columbus, Baltimore, Buffalo, Toledo, Detroit, and the State of Michigan also discussed the City of Dayton's work to sell more than three dozen vacant properties to Ahiska Turkish families in Old North Dayton. These properties have been rehabbed by Turkish families and have been a significant part of the neighborhood's revitalization.
The invite-only discussion was timely as earlier that morning, the conference heard a stirring keynote address from Detroit Mayor Mike Duggan who identified population growth as the single most defining metric for his administration. Immigrants must be a critical element for that growth as virtually no Rust Belt city has been able to stop population loss without a proven ability to attract and retain immigrants and refugees as residents.
The group also discussed the work of the Cuyahoga County Land Bank with its area refugee resettlement collaborative to identify housing opportunities for area refugees. Gus Frangos, the President and General Counsel of the Cuyahoga County Land Bank, drew upon his years of experience in the housing redevelopment and rental markets and noted that one of the greatest challenges to redevelopment and housing agencies is identifying quality tenants, but that refugees who have been vetted and supported by refugee resettlement agencies make good tenants and should be attractive buyers and renters for land bank programs.
Dennis Roberts, Director of Programs and Property Management for the Cuyahoga County Land Bank, discussed the Land Bank's work with the International Services Center (ISC) to sell 7 single-family homes that were rehabbed into new homes for refugees. Dennis noted that while many immigrants and refugees do not look at debt the way that U.S.-born residents do and may not want a 30-year mortgage, he noted that their success was predicated on taking on the immigrant and refugee opportunity and asking "how do we solve this challenge," instead of simply developing a one-size fits-all property disposition policy and hoping that immigrants and refugees take advantage of the program.
Building on the success with ISC, the Cuyahoga County Land Bank is working with the Cleveland City Council and refugee resettlement collaborative to create a DREAM neighborhood that centers upon Thomas Jefferson School, a newly-constructed school in West Cleveland that services all of the English Language Learner (ELL) students in the Cleveland Public Schools. Councilman Joe Cimperman, along with Councilman Brian Cummins and Matthew Zone, have prioritized demolition dollars and, the Cuyahoga County Land Bank has used data to identify target properties in the foreclosure process to assist in neighborhood planning and housing redevelopment.
The session discussed a variety of topics related to building upon these examples and the local work that other communities are tackling. The discussion included identifying and navigating fair housing rules when creating programs targeting immigrants and refugees, addressing language and cultural barriers, solving mortgage and credit challenges, and using data. There was even a discussion about basic immigration terminology (what does the term "undocumented" actually mean). Innovative solutions including use of land contracts and lending circles were touched upon.
At the end of the 90-minute session participants identified that developing data on the potential size of immigrant and refugee communities in Rust Belt cities could be an important tool to highlighting the opportunities for land banks and other vacant property disposition entities. WE Global Network offered to provide some examples of sample reports that highlight the opportunities that exist in Rust Belt Cities. And the group discussed building upon these conversations at the WE Global Convening in Dayton on July 9th. To register for the Dayton event, please visit the conference registration page. We promise at least one panel discussion about housing, vacant property, and urban redevelopment will be on the agenda.
https://www.weglobalnetwork.org/wp-content/uploads/2015/05/20150520_105106-2.jpg
338
600
gglnadmin
http://www.weglobalnetwork.org/wp-content/uploads/2016/08/WEGN_standard-new-colors-01-300x120.png
gglnadmin
2015-05-21 15:18:34
2017-12-01 22:32:16
Immigrants: The Vacant Property Solution