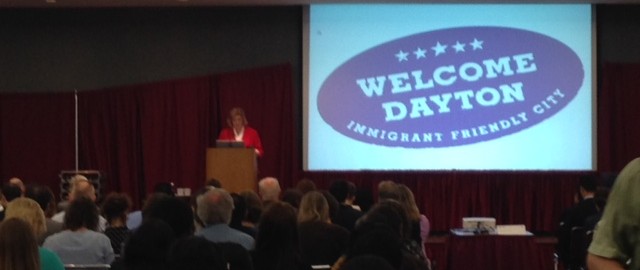 Melissa Bertolo has served as Welcome Dayton's Program Coordinator since 2012, more than half of the initiatives lifespan, and was the first full time employee to work on the immigrant friendly initiative.  Over the past three years, Melissa has furthered the city's efforts to improve integration of immigrants and refugees into the Dayton community and collaborates with cross-sector partners to further drive the work being done. She provides staff support to the City Commission appointed working committee, which has six active sub-committees and has engaged in multiple projects to create a more immigrant friendly community.  Melissa was the lead coordinator in Dayton of the 3rd Annual Convening, and her commitment to providing an engaging and informative day and highlighting the many successes of Dayton's welcoming and integration efforts were apparent and appreciated by all.
Hosting the Welcoming Economies (WE) Global Network Third Annual Convening was truly an honor for Welcome Dayton. Bringing together 300 people from across the region allowed us to both showcase our work as well as deepen our understanding and connection to best practices throughout the country.
Did you know that Welcome Dayton kicked the convening off on Wednesday with the Ohio Welcoming Initiatives? Representatives from Cincinnati, Dayton, Columbus, Toledo-Lucas County, Cleveland, and Akron met at the Dayton Human Relations Council with a full agenda to discuss opportunities to collaborate and learn from each other. We were incredibly lucky to be able to host national partners, including Amanda Bergson-Shilcock (National Skills Coalition), Katherine Gebremedhin and Sylvia Rusin (IMPRINT).
"Ohio is taking the lead to work collaboratively throughout the state to serve the immigrant and refugee communities to ensure a welcoming environment. It's important that we have this network of cities as we collaborate on state-wide initiatives, including workforce development and the Ohio Board of Regents' international student retention initiative," said Guadalupe Velasquez, Assistant Director of the Community Relations Commission.
Hosting the WE Global Convening provided opportunities to deepen our work by holding additional meetings like this one throughout the three-day event. In addition to the Ohio Welcoming Initiatives Meeting, Steve Tobocman and Karen Phillippi from Global Detroit met with representatives from local universities and the Welcome Dayton Business & Economic Development sub-committee to discuss international student retention strategies. For Welcome Dayton, one of the biggest outcomes of hosting the convening was the opportunity to build stronger relationships between initiatives and this meeting definitely represented that.
We kicked Thursday morning off in high-gear with on-site registrations topping out at 300 people! This was the largest WE Global Network Convening to date, and hearing our keynote speaker Felicia Escobar, Special Assistant to the President for Immigration Policy, give thanks to Dayton for being a model as a welcoming community was definitely a highlight!
"It is exciting for Dayton to be a leader in immigrant integration because it demonstrates the fact that the community understands the importance of diversity and how it positively impacts the economy for all those who live, work, play and gather in the city," said Catherine Crosby, Executive Director of the City of Dayton's Human Relations Council.
With 15 different breakout sessions, it was definitely difficult to choose which workshops to attend. Having City of Dayton representatives (myself, Dayton Police Chief Richard Biehl and Planning & Community Development Director Aaron Sorrel) on three different panels truly highlights that Welcome Dayton is not just a special project, but something that is integrated into the work throughout the city government. Furthermore, the high participation of Welcome Dayton Committee members truly demonstrates the support and commitment from the community.
The convening on Thursday closed with a special recognition of Tom Wahlrab. Tom is often cited as the founder of Welcome Dayton, although he will always be the first to recognize the importance of the community's involvement and participation. Of his recognition, Tom remarked, "It has to do with appreciating the community's acknowledgement of my role. The larger picture is that four years after the initiative started, community members find ways to welcome and open their hearts to not only immigrants, but all of their neighbors. Welcome Dayton has helped us all see each other more clearly."
Many people left Thursday with heads full of new ideas and opportunities to collaborate, but for the WE Global Network, another full day was still ahead. A network members-only day provided the opportunity for the network to learn collectively on a few key issues, including evaluation, communications and policy. As Catherine Crosby noted, "The Welcoming Economies Convening provided one more opportunity for the Dayton Human Relations Council to advance its mission of ensuring fairness, equity and opportunity for all."
This post originally appeared on Welcome Dayton.
https://www.weglobalnetwork.org/wp-content/uploads/2015/07/Mayor-1.jpg
480
640
gglnadmin
http://www.weglobalnetwork.org/wp-content/uploads/2016/08/WEGN_standard-new-colors-01-300x120.png
gglnadmin
2015-07-16 14:46:15
2015-07-16 17:19:21
Welcome Dayton Reflections on the 2015 WE Global Network Convening